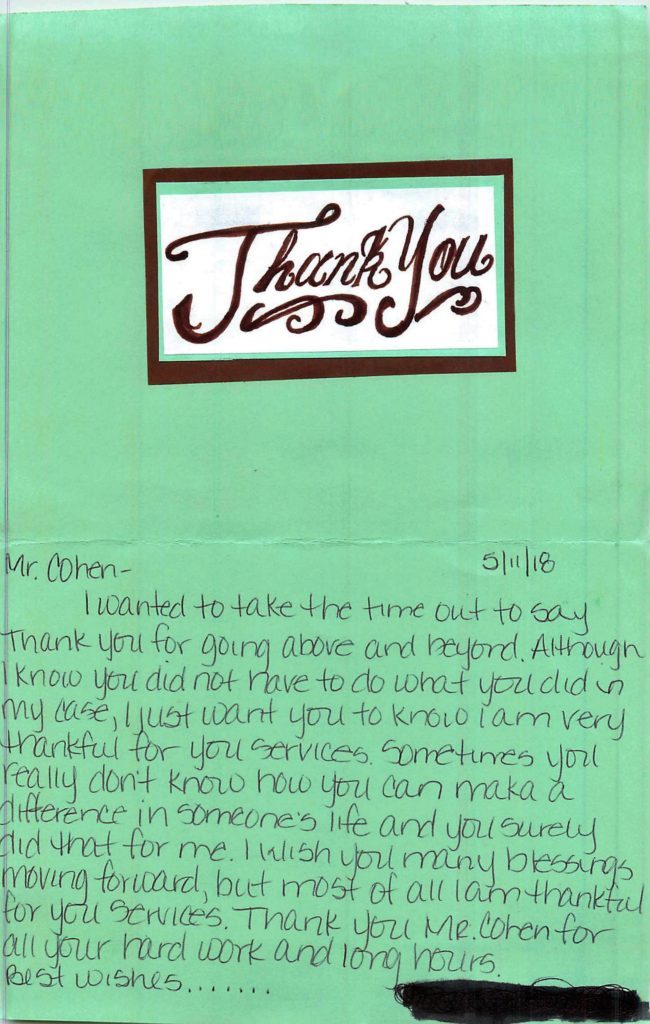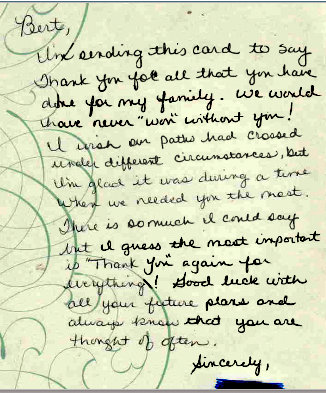 Dear Mr. Cohen Thanks for all your help and guiding me through this process. You have been a great help. Really appreciate all the efforts you have put into my case. I had made the right choice when I came to you and I knew it form the first day I met you. Thanks once again. Name witheld Words cannot express…my GRATITUDE Bert!!!
I am so thankful for all that you have done for me. Again, words cannot express the level of stress that you have lifted from my shoulders. You are a true Angel, and I feel like a better person for knowing you.
Happy Holidays and I will talk with you soon♥♡♥
You are a true superstar!! 🙂 🙂 🙂
With Thanks in my heart, (Name witheld) __________________________________
Hi, don't want to pass this day without saying thank you. My daughter's friends are asking who is this attorney?? WOW!!! Anyhow, don't be surprised if more Cartersville cases come on the way for you… You did a TERRIFIC JOB and my daughter _______, has recommended you already to some of her friends. I can finally sleep now thanks to you!!! Name witheld Dear Mr. Cohen, Thank you very much for representing our daughter ___, for her MIP diversion case. Your positive outlook and encouragement throughout the experience was very reassuring to us as we have never been involved in this type of situation before. We are extremely grateful that we had you to guide us through the diversion program with your expertise and knowledge of the system. The feedback that you provided along the way was an important factor in completing all of the requirements properly and on time. All of these things contributed to the dismissed charges outcome that we had all been hoping for. We appreciate everything that you have done for our family. Sincerely, [Client's parents]
We knew, when we engaged Bert Cohen's services, in connection with our son's Cobb County probation violation arrest, that there were no guarantees, and we thought our expectations of the outcome were realistic. So, imagine our surprise – and delight! – when our son's case was dismissed and he was able to come home within days of hiring Mr. Cohen. The reasonable fee was probably the best money we ever spent on legal services.
Georgia/Florida parents.

I just wanted to thank you for everything you have done involving my DUI case. The outcome of my case was better than I had expected. I will definitely recommend you in the future. Sincerely,
S.M. Nashville, TN [Case involved a roadblock DUI stop, .11 breath test results were suppressed for violation of implied consent law. All charges dismissed].

Dear Bert,
I want to thank you for everything you did for me which I will never forget it. Thanks to you I got my citizenship. Really I have no word to say. I really appreciate for your big help. You are the best of the best attorney. Sincerely Yours, D.R.

Dear Mr. Cohen,
I would like to express my sincere thanks to you for your services with [my relative] three months ago. You did a wonderful job with him and I am extremely grateful for all you did. I will recommend you to others as I come across those who may need a criminal attorney. I just wanted you to know that [relative] and I are greatly appreciative of you.
L.D.

Bert Cohen is worth every penny that I paid for his service. He brought in expert witnesses and proved that the law enforcement officer were unjust in his actions. I would recommend Mr. Cohen to everyone who has an unfortunate court appearance in the future.
MT
Dear Mr. Cohen, This letter is to express my gratitude for your services. I am confident that your representation directly impacted the final outcome of my case. You were confident in your ability to obtain the best possible deal from the district attorney and you did exactly that. I would also like to thank you for your promptness in returning my calls and for taking the time to answer the numerous questions that I asked. I am very impressed with your dedication and skills as a lawyer and will not hesitate to recommend your services to clients, family or friends. Many blessings to you.Delores Greene
Bert,Thank you, again, for saving me!
I sought attorney services after I was arrested in March 2018 for possession of marijuana. I had an appointment with Bert Cohen the day before I was scheduled for court and he was able to postpone my case until I was ready to resolve it. I followed Mr. Cohens' directives and completed most of the requirements of the court that were associated with my charge before arraignment. Bert is a very smart man and well-respected in the judicial community. I am so glad I chose Bert Cohen as my attorney. He negotiated well on my behalf and was able to eradicate all of the additional traffic charges I incurred at the time of my arrest. By viewing the police video that was taken before I was pulled over, Mr. Cohen deducted that the charges were inappropriate and unjust. I was charged with two separate counts of improper lane change, no turn signal, reckless driving, and crossing the gore in addition to the drug charge. He recognized that I was only trying to pull over and the police officer was overzealous. By the time I walked into court, I was confident knowing Bert had already arranged a great deal for me. My fine was a mere fourth of what it would have been without legal representation. As a long term legal contender, I know this would not have been possible without Bert Cohen. I highly recommend his services, he is thorough, non-judgemental and down to earth.S.H
My fiance and I could not be where we are today without the help of Mr. Cohen.
Today, I am a successful sales representative, and I would not have had this opportunity to have this career path without Mr. Cohen if I had a DUI on my record. A few years back, while I was attending a local university, I was pulled over returning to my place from a bar. Of course,I had been drinking. Isn't that what college students do? But, why did I drive? The officers performed all the field sobriety tests, and I tried to cooperate with the officers by agreeing to do the breathalizer. Entertaining the idea that if I was polite and I cooperated, I actually thought that the officers would consider just letting me walk home, or to get picked up by a friend?!? I was within .5 mile of my apartment. I blew a .21, which is quite high considering my stature, and being a female. The cuffs went on, and reality set in. Mr. Cohen was highly recommended to me by a friend. Mr. Cohen took my case, and made me feel comfortable from our first meeting. This was the first time I have ever been in trouble with the law, and I was very nervous, scared, not to mention embarrassed. I also had the fear/burden of losing my college scholarship if my coach or the school were to find this out. I think feeling comfortable and trusting a lawyer to do ALL he can for you is the most important thing when obtaining services. I never once had second thoughts of his work ethic and determination to help me. In the end, Mr. Cohen found many mistakes that the officer made, as I was the officer's first DUI case. The case was reduced, and I had to pay a small fine and community service. In hindsight, I never should have drove, and learned a valuable lesson.
As for my fiance, he also ran into a bit of trouble with the law. We are incredibly grateful for Mr. Cohen for helping once again on his case. My fiance and a group of friends ended up in a bar brawl. He was arrested and had 18 charges on him. He, on the other hand, had a lot more to risk then I did. My fiance was not an American citizen at the time, and faced the fear of possibly being deported or never having the opportunity to apply for his citizenship. He was also a student at the time. Again, thanks to Mr. Cohen all charges were reduced to 2 minor violations, and he has since earned his citizenship here in the United States.
Without Mr. Cohen's help, who knows how our story could have ended.
MR. COHEN,THANK YOU FOR ALL YOU HAVE DONE FOR US. WE REALLY HOPE THAT WE NEVER SEE YOU AGAIN, UNLESS IT'S FOR SOMETHING PLEASANT, LIKE AN ADOPTION! TAKE CARE.
Sincerely,
K.E. Tampa
Dear Mr. Cohen,
I wanted to thank you again for your defense of my husband in court yesterday. You have been no small source of confidence to us, piloting our family through dangerous waters; steadying and redirecting us in the face of much opposition.
You were as cool and steady as the Rock of Gibraltar in the courtroom yesterday, and it was obvious to everyone present that you knew more about running a courtroom and the proceedings that followed, than even the judge. You lent us your confidence, in an environment where we were both totally out of our element, and at the mercy of those who seemed to take twisted delight in seeing facts be skewed, doubts be raised, truth wrested from it's context so forcibly, that it would all seem a lie. You redeemed my awkward, virgin testimony on the witness stand and gave the judge confidence, where he was admittedly uncomfortable with my husband's long list of charges, and enabled my husband to return home to wife and five children after 33 long days of separation. You were the proverbial toast of our home last evening, and we rejoiced to have had you on our side.
I also want to mention my appreciation for taking my husband's calls directly, meeting him on a Saturday or evening, and the reasonableness of your compensation. Thank you for caring about your fellow human beings in need. You were the only redeeming part of our dealings with the justice system. As a 20th generation American who desires to think well of her country and the principles it espouses, at least in theory, I felt so incensed at the arrogant complacency of the representatives of the state in court yesterday, that my head may have well been a sack of feathers. Not only did I perceive my own interests were unjustly under attack by people who do not seem worthy of the public trust, but my anger was aroused and my zeal for true justice in our courts in general, pooled like water. The suppression of that overwhelming emotion left me discomposed and truly unable to articulate well. Such is the nature of the game, I suppose, and the state uses it to their distinct advantage. But while such things knocked me from my natural equilibrium, they did not take you off guard at all. You had seen it all before. Our salvation was in your hands, in spite of my flounderings.
I walked away yesterday with enlightened eyes,in many venues. I would sooner cut off my right arm than be ensnared in that travesty called "justice" ever again. I also came away thanking God that my prayers were answered that day about a month ago when I sat, like a shell-shocked orphan of war, at the computer, my life crumbling about me, blindly perusing hundreds of attorneys names. I was looking for a criminal defense attorney who would actually prove a defense. I can say from other hearings I saw yesterday in the courtroom that many attorneys don't defend. I fully concur with the sentiment of the opening statements from the welcome page on your website: A good lawyer "make(s) all the difference in the world." I would add to that thought, that a good person makes a good lawyer a great lawyer, one that I would challenge anyone to dispute, is head and shoulders above his peers.
Best regards,
R.D.
Mr. Cohen,Thank you so much for all that you have done for me with this case — I just received the email attachment regarding the dismissal. You have been such a great help and you have been wonderful to me and my father; making sure to always keep us updated. It was nice to work with you.
Sincerely,
K.S.

Dear Bert,
I don't think I can truly thank you enough for everything you've done for me. I honestly think you have gone above and beyond your duty and I feel pretty lucky to have had you in my corner throughout all of this. This past year has undoubtedly been the hardest year I have ever had to face and without all you have done for me – I don't know if I would have made it. Without your help and expertise I don't think I would be at [name of rehab. program] and finally have the opportunity to live sober. In fact, I would probably still be in jail. Coming to [rehab. program] has been so positive for me – I can finally say – I know I'm going to be ok. Yes, I had to learn the hard way, and yes – I can be a pain in the ass, but I want you to know how grateful I am to you for all that you have done for me. You didn't give up on me – even after I gave up on myself.All you have done will never be forgotten. Consider me as a life saved.
Name Withheld, Atlanta,
Dear Mr. Cohen,
I really appreciate your big help, valuable time, and enormous efforts that you have done for me which I never will forget in my entire life.
I have been grateful, I am grateful, and I would be grateful to you all in my life.
The wisdom, experience, and skills that you have and your role as an attorney played a vital role and it has made a big change in my life.
Thank you so much and God bless you.
Sincerely yours,
R.J.
Dear Bert,
I can not thank you enough for the legal advice you provided our family at a time we needed it the most. You did a great job representing my father and helping him through a very difficult and stressful time in his life. Until this day, we do not know what we would have done without you. I was very impressed with your knowledge of the case and how prepared you were when the trial started. In all honesty, you exceeded our expectations and I knew my father was in good hands. In the end, your hard work, dedication and determination made it possible for justice to be served. We really appreciate everything you did and will always be grateful for having you on our side and protecting my father.
Always know that you are the #1 attorney in our eyes and we pray you will continue prosperity and success.
K.J., Georgia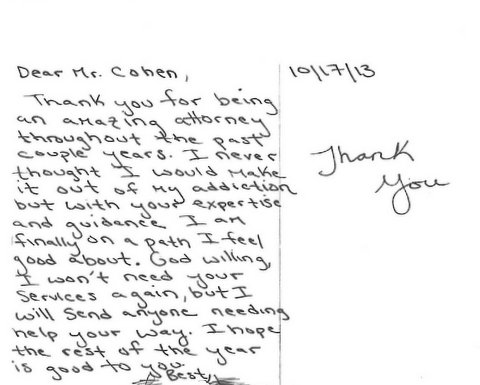 Marietta, Cobb County, Criminal and DUI Defense Lawyer, Bert W. Cohen, 321 Lawrence Street, Marietta, GA 30060 (770) 422-5101