Good people accused of committing any kind of crime, from a traffic court violation to murder, or anything in between, always worry about two things: possible punishment and how to avoid a criminal record. A criminal record can continue to hurt you for the rest of your life. First offender, conditional discharge, accountability courts, record restriction and sealing, diversion, and pretrial intervention or PTI, are some of the ways to prevent or minimize a criminal record and punishment. These programs are available in Cobb and Fulton County Courts as well as many other courts all over Georgia.
First Offender & Conditional Discharge
When a person has a pending criminal, DUI, or traffic case in a Georgia court, that person at some point in the process must make a decision. He or she must decide whether to go to trial or plead guilty (or nolo, if permitted). When you go to trial, you can never be absolutely certain of the outcome. If you plead guilty, you may or may not have a deal worked out with the prosecuting attorney as to what will happen in your case. If you have a deal, known as a plea bargain, you can be pretty sure how your case will turn out. Either way, you can end up with a criminal record. This can hurt your employment, education, housing, immigration status and other opportunities. Traditionally, people caught up in the criminal court system, including city, probate, magistrate, state or superior courts, sometimes have other ways to complete their cases. For example you may be allowed to be treated as a "first offender", or in drug cases, plead guilty under the "conditional discharge statute." law. These two alternatives are similar in that in both, the judge postpones deciding whether the person is will have a record of a conviction of the crime. Either way, the defendant could still have to pay a fine, go on probation, get counseling, do community service, and even go to jail or prison. However, if you use first offender or conditional discharge treatment and successfully do all the things you are required to do, the judge will then decide you are found not guilty-meaning no criminal conviction. In drug cases, this is especially valuable because it means that the criminal record can be immediately restricted. Restriction or expungement, as it used to be called, means that members of the public could have a difficult,but not impossible, time finding out about your case if they just dig a little.
Diversion, Pretrial Intervention, Record Restriction and Sealing
Over the last few years, Georgia courts have created some great alternatives to first offender and conditional discharge treatment. Depending on the crime charged, diversion, sometimes known as pre-trial intervention or PTI, is be available in many courts. If a case goes this route, the defense lawyer and prosecutor agree to hold the case open while the defendant performs certain tasks over a period of time. This may include things like: drug, alcohol, or anger evaluation and counseling, community service, passing drug tests, a shoplifting class, a Mothers Against Drunk Driving or victim impact panel (VIP) session, and paying any victim for any losses incurred. Other conditions for diversion or pretrial intervention can be imposed depending on the case. If the accused person lives up to his end of the bargain and successfully completes diversion or PTI, the case is normally "nolle prossed." This essentially means case dismissed. Depending on the court, restricting the criminal record can then happen automatically. However, members of the public can often still go to the courthouse and look up and see the case, even if it is restricted. Fortunately, if that happens, we can protect your privacy even further by requesting that the judge sign a sealing order. If the judge agrees to seal the court record, the court clerk, who is the record keeper for the court, must hide the records of the court case from the public.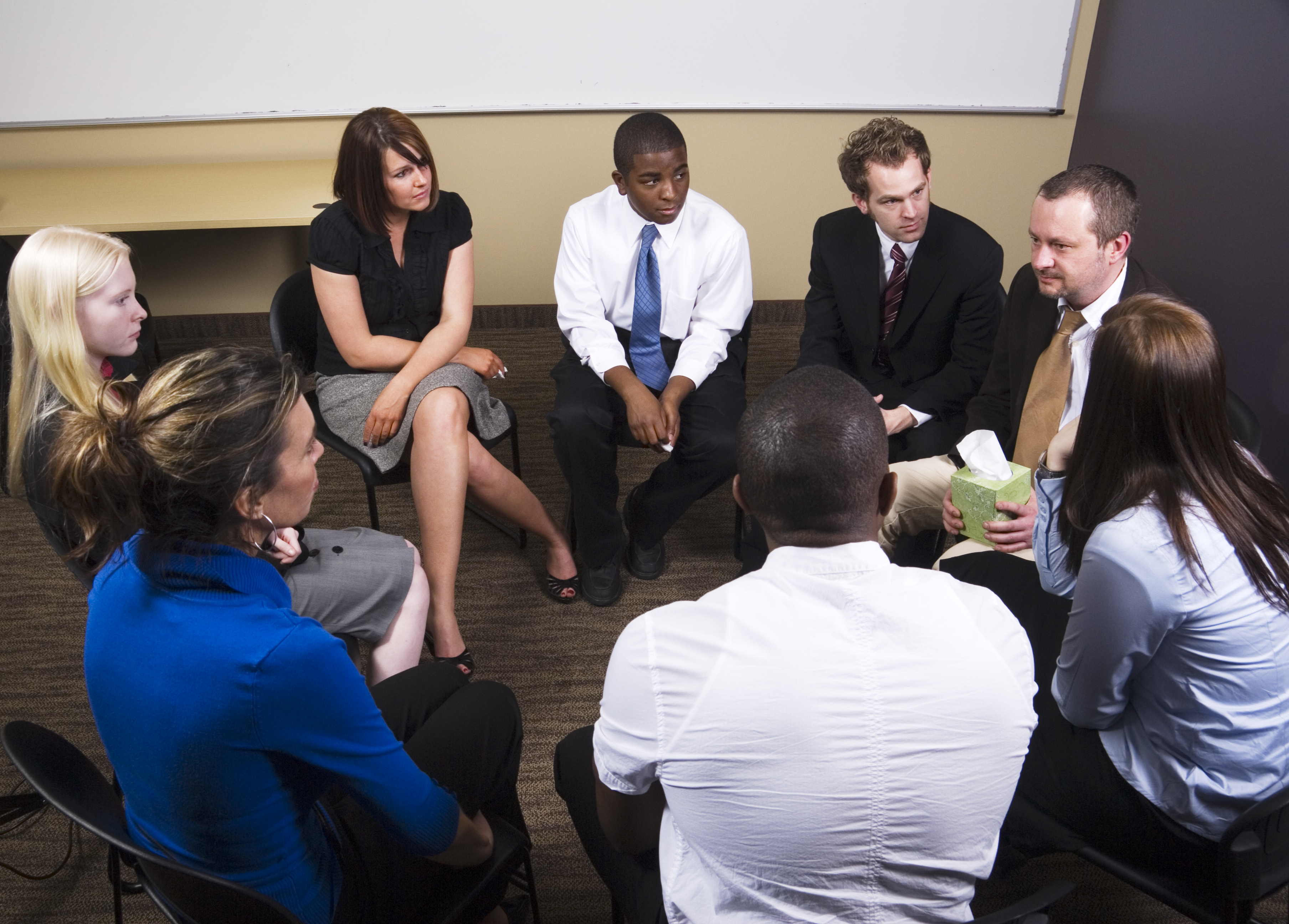 Counseling is usually a major part of Accountability Courts as well as Diversion and Conditional Discharge
Accountability Courts
In the last few years, Georgia organized a statewide system of "Accountability Courts." These are special programs, only for groups of people with the problems that these courts are designed to handle. The purpose of accountability courts is to save lives and restore families. We now have Veterans Courts, Mental Health Courts and Drug and DUI Treatment Courts. They all involve counseling, drug tests, frequent court appearances and close interaction with court staff. A person who has a case sent to an accountability court must agree to give up certain rights in order to gain the benefits that the accountability court or treatment court have to offer. For example, the person must freely and honestly interact with the judge, counselors, and other court staff, without a lawyer. These interactions can be very personal. What this does is create a less adversarial relationship between the accused person and the prosecutor and judge. The goal of accountability courts is to remedy the root problems of the individual rather than to just punish. Depending on the program, a person who completes an accountability court program or treatment court program may be able to get his or her case dismissed, or can greatly benefit from a more lenient sentence. Even if the case is not outright dismissed, successful completion of the program could mean less or no jail time in a case that would other require it. In some cases, successful completion could mean the individual is eligible for record restriction and sealing, as described above.

In most accountability court programs, if you violate rules or drop out, the penalty can be harsh. The judge can jail you for a few weeks or prolong your time in the program. If you break the rules often enough, say by repeatedly failing a drug test, or get re-arrested, you will be dropped from the program, returned to the regular criminal justice system or sent to prison.
Accountability courts and drug and DUI treatment court programs are a great way to address the needs of people in trouble as well and their families, and hopefully prevent repeat conduct. Like everything else law related, these programs can change as needed. They are often the best possible choice for people in trouble.
Diversion, PTI, and Accountability Courts are Widely Available
Diversion, pretrial intervention and accountability courts are widely available, including in Cobb, Fulton, Paulding, Cherokee, Forsyth, Gwinnett, Dekalb, Douglas, Bartow, and Floyd County State and Superior Courts, as well as city courts in Atlanta, Marietta, Smyrna, Acworth, Powder Springs, Sandy Springs, Canton, Alpharetta, and Roswell.
When you come in to meet with Mr. Cohen he will review with you your eligibility, the benefits and disadvantages of these various programs, and help you decide what is best for your situation.
Bert W. Cohen, Marietta Cobb County and Metro Atlanta Criminal Defense Lawyer, 321 Lawrence Street, Marietta, GA 30060, Tel: (779)422-5101